Name Jessica. Or Urethra .. whichever you prefer.

Age 18

Location Shepherdstown, WV!! ( represent... :\ )

Sexual Preference I enjoy the men.

Music Basically everything on Dischord records, DOA, Zero Boys, Hudson Falcons, Bathtub Shitter, Conflict, Angry Samoans, Caustic Christ, Sub-Humans, Hopeless Dregs of Humanity, Sham 69, The Dead Milkmen, The Meatmen, Karmella's Game, Worm Quartet and sooooo much more. <333

What you look for in someone Someone who doesn't preach. Who likes watching horror movies together. Have a good mix of being "street smart" & "book smart". Whose diverse. Someone who likes tattoos and snowboarding is a plus, but not a necessity (<3). Going to shows and circle pitting (not big into moshing), singing and having fun. Someone down to earth, easy going and who has a sense of humor. Pref. vegetarian (/vegan or fregetarian). I usually tend to go for guys with medium builds. I don't really like dating skinny or overweight people (it's not the whole, "OMG! SKINNY/FATBOYZ R IKKY"), I just think it's unhealthy. Because I care about nutrition.

I'm not big into guys who try to be macho and impress people. I feel, if you have to prove yourself (so to speak) to someone, you're trying to hide a weakness or personality trait you dislike. Nor am I really big on guys who don't like meeting new people, and sit in the back of the room when they go to a show. Arrogant and egotistical people really piss me off, too. </3>Other stuff</b> I have more photos. If you'd like to see some, lemme know! I'm also pretty damn agnostic. I used cuss like a sailor, but I'm trying to cut back. I really don't care what people think of me. I'm an optimist, pro-choice, a pacfist, a liberal, a libra, a writer, blooming 35mm photographer and an inventor. I've dated people who drink, smoke weed (I don't mind cigarettes much, as long as the boy carries mints), thinking it would work. But, alas. No. Go figure, right? I live in the country, because I like the night sky. I don't believe in anarchy, and I respect my elders bosses. I have a great respect for the dead (I verbally harassed a girl once, because she bragged about peeing on someone's grave). I like fire crackers, mortars and pipe bombs.

I don't really wear deodorant, but I will sometimes. (Some people have problems with that, I've heard.)
Oh. I also don't wear any of my piercings anymore, except my conch and a retainer in my septum.

PS: If anyone, girl or boy, lives in the DC or Baltimore area, leave a comment. <3
PPS: Please let me know if I should put these behind a cut.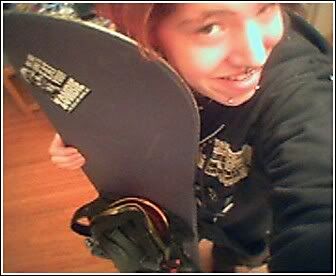 I went totally crazy with this thing! Sorry.